Featured Listings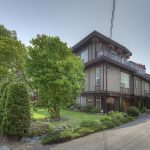 Absolute luxury from top to bottom! Bright, spacious, custom executive townhome in a small complex of only 3 units. This 2011 built 2 bdrm + den, 3 bath home boasts large sunny windows, pristine finishes and is located on a quiet street just 2 blocks to the water in 3 different directions (Dallas Road &… Read More
Weekly Video Blog

Consumers seem to be more interested in the colour of the kitchen than the actual quality of construction.

In my opinion, instead of spending your money inspecting during construction or on completion a better choice would be to inspect the home before the various 2-5-10 year stages of the warranty expire.

If I had any clue I wouldn't be selling real estate.