Featured Listings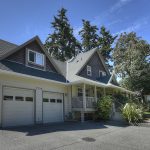 Extraordinary better than new family home with suite nestled on a quiet no-thru lane in Maplewood. Spacious 3,300 sq/ft Cape Cod design with wrap-around veranda and abundance of character. Main floor living with principal rooms featuring gas fireplaces and attractive and bright kitchen with panoramic view of garden. Upstairs you'll find three bedrooms plus a… Read More
Weekly Video Blog

As of July 4th, 2016 owner-builders in B.C. have to write, and pass, an exam for their application to be approved. The dumbest thing I've ever heard off.
Market value of condos in Victoria, B.C., has gone up drastically in the last 12 months; however, rents haven't gone up the same extent which means returns are dropping. Does it make sense to sell and re-invest the profits? Maybe not when you factor in transaction costs and capital gains taxes.

H&M T-Shirt pricing actually makes sense, real estate commissions not so much.